45th NZLA Literacy Conference 2023
Mon 25th Sep 2023 — Wed 27th Sep 2023
Venue: Ascot Park Hotel, Invercargill, New Zealand
The Southland Literacy Association is thrilled to be hosting the
45th NZLA Literacy Conference 'Lighting the Literacy Pathway',
25 – 27th September 2023, Ascot Park Hotel, Invercargill, New Zealand.
With 7 exceptional literacy and educational keynote speakers (YES 7!) plus a variety of workshops to choose from, this is the conference you will want to attend!
Registrations open to New Zealand & Overseas:
Educators & Principals
Specialist teachers
RTLB & RTLit teachers
Support staff
Early childhood teachers
Student teachers
Parents
2 different registration options to choose from to make the registration process easy:
School/group registration booking
Individual registration booking
Conference prices:
EARLY BIRD PRICES CLOSING SOON!
$395 + GST 2023 Southland Literacy Association member Early Bird
$425 + GST 2023 NZ Literacy Association member Early Bird
$495 + GST Full registration
University and Teachers College students please contact us directly via email for conference registration costs.
All prices are per person. Early bird specials end 1st May 2023.
Workshop Presenter Opportunity!
We are looking for keen educators, authors, illustrators or facilitators who would like to run a 60 minute literacy based workshop at our conference! Registration special included.
If this sounds like you or you would like some more information, please email us at conference2023@nzla.org.nz with your interest. We would love to hear from you!
You won't want to miss out attending the 2023 NZLA Literacy Conference, so join us and register now at nzla.org.nz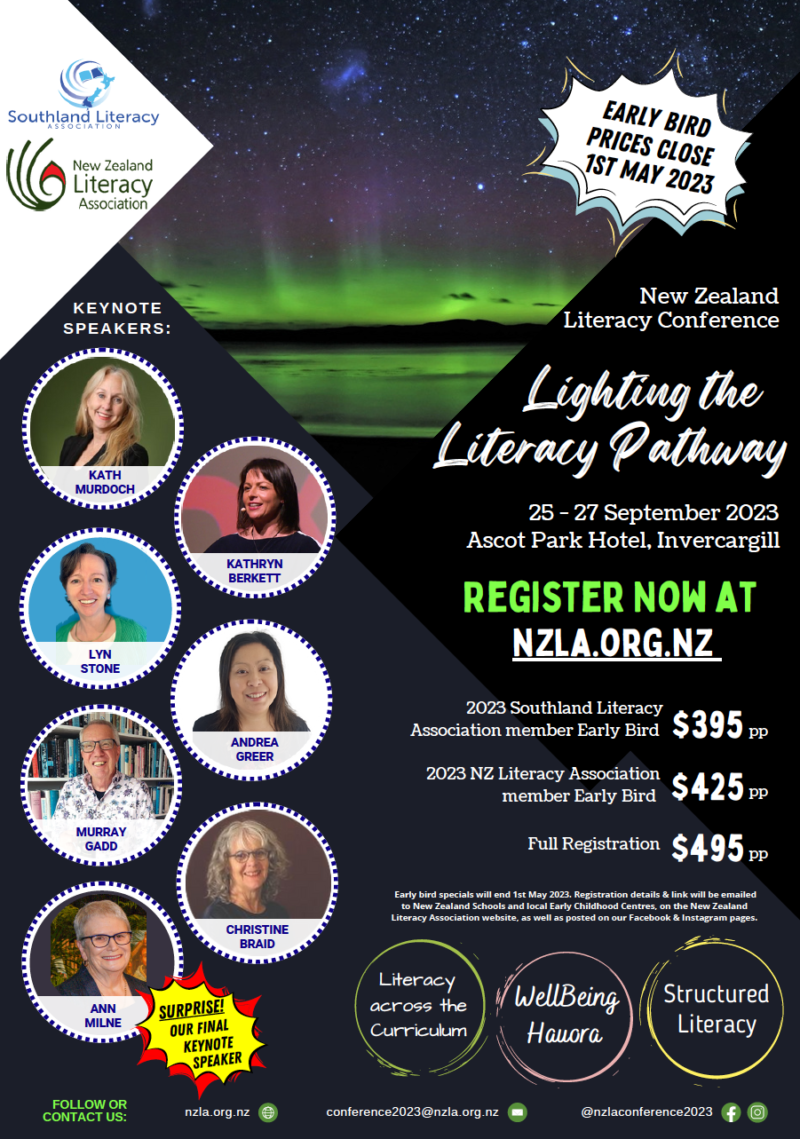 Download Event Poster