Awesome Writing Workshops for Children! Open to MLA Member Schools ONLY.
Wed 19th Jun 2019
Time: 11am & 1pm
Venue: Central Normal School
Member: $20pp
Non Members: Not Applicable
Check out our upcoming literacy workshops for our MLA MEMBER Schools; writing workshops for Y4-8 children with well-known storyteller and author, Zebong.
Can't afford to have him visit your school? Never fear! Look further at the flyer to find out how you can send some of your children to work with him; reluctant boys or gifted writers. We've got them both covered.
Numbers are strictly limited and open to schools who are members of MLA.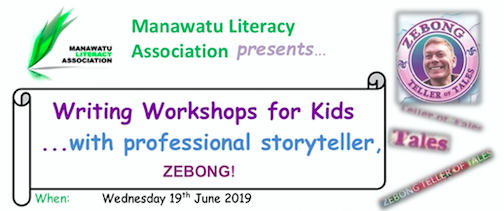 Download Event Poster