Gathering Momentum – TTLA Seminar 2018
Sat 19th May 2018
Time: May 19 9am - 3pm
Venue: Clark Road Chapel - Clark Road, Kamo
Member: $90
Non Members: $120
The TTLA annually organise a seminar day with 2 keynotes, a keynote breakout, plus workshops and access to educational traders.
Dr Ian Hunter – Director of Write that Essay
Keynote: Who Says They Can't Write: How to release the writer in your classroom?
In this engaging presentation, Dr Ian Hunter will unpack some of the myths around the teaching of writing, and tackle key strategies to     advance children who struggle to write—of whatever age and barrier.
Breakout Session—Making writing not just fun, but better.
In this interactive workshop Dr Ian Hunter will demonstrate practical teaching methods for engaging students in writing and improving fluency, accuracy, and lifting  confidence.
Linda Cheer – Director of Longworth Education
Keynote:  Putting the Joy back into Teaching Literacy
Have we become disconnected with how children learn and what motivates children to read and write? Linda Cheer will challenge us to reflect on how we teach literacy.
She will discuss current pedagogy, revisit evidence based practice and outline how we can put the joy back into our teaching of literacy.
Breakout Session —Literacy in a Play Based Classroom.
How play develops literacy skills.
The Teachers Role
Maintaining a balanced programme.
The Classroom as the third Teacher.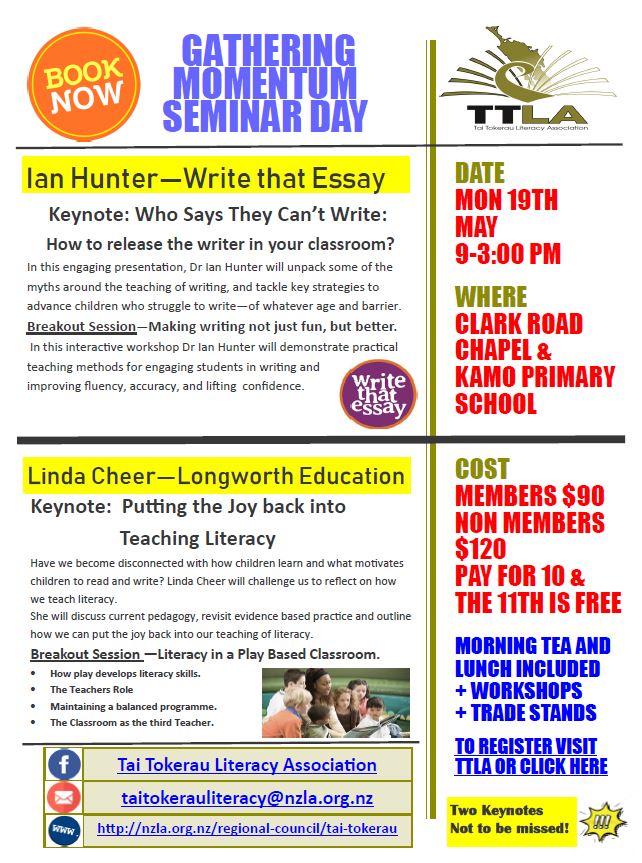 Download Event Poster