The Auckland Literacy Association invites you to the NZLA 43rd National Conference.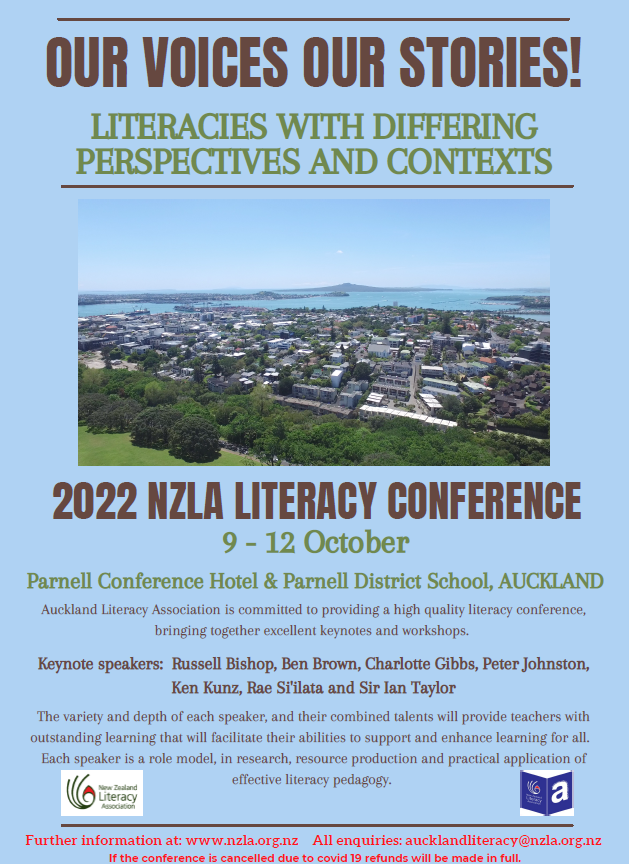 Our Voices Our Stories Flyer 
We are committed to providing a high-quality Literacy Conference bringing together excellent keynotes and workshops.
We have seven confirmed plenary speakers of exceptionally high quality.  The variety and depth of each, and their combined talents will provide our teachers with outstanding learning that will facilitate their abilities to support and enhance learning for all of our learners.  Each speaker is a role model, leading by example in combinations of research, resource production and practical application of effective literacy pedagogy. See the keynote Page for more.
And more to come, soon….
Call for papers for workshops
Information about social functions
Notification of exhibitors
Registration for early birds
Accommodation costs
And more….
Our conference committee members are working hard to organise a conference of which we can all be proud, and we ALL have fingers and toes crossed that after a drought of two years we will finally have an NZLA national conference.