The Learning Brain and the Struggling Learner – Taranaki Literacy Association
Fri 9th Jun 2017
Time: 9am - 3pm
Venue: Plymouth International Quality Hotel
Member: $100
Non Members: $120
CHRISTIAN WRIGHT
The Learning Brain and the Struggling Learner
About Christian…for nearly two decades Christian's work as a Speech Language Therapist has focused on helping children with significant learning difficulties find ways to overcome barriers to learning.
Through his work with teachers, parents, RTLBs, RTLits and other education professionals, Christian has observed common patterns emerging in the behaviour of struggling learners and the critical role the brain plays in this process. For many of our struggling learners, learning has become an emotional event. The child's repeated experiences in failing to succeed become an emotional block to learning.
This one day seminar will explore:
the learning brain,
it's structure and function,
the impact of stress,
how attention and memory function,
 how learning moments are formed,
 how language and relational strategies can support our learners to begin to get past their block and better engage with the learning moment.
Email all registration information below to Gloria Dravitski: gloriad@xtra.co.nz
Registration details are included on poster.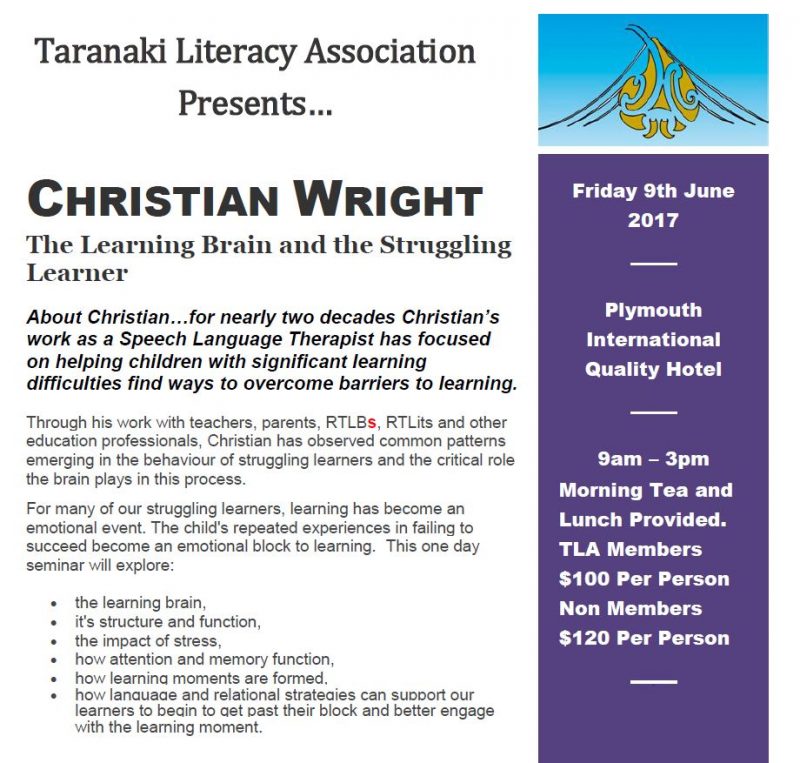 Download Event Poster