NZLA International Affiliations – IDOC
International Development in Oceania Committee (IDOC)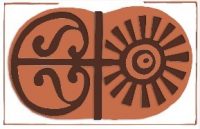 The International Development in Oceania Committee (IDOC) is a Standing Committee of the International Literacy Association (ILA) and has a long history of collaboration and cooperation with and between the New Zealand Literacy Association (NZLA) and the Australian Literacy Educators' Association (ALEA).
The logo of IDOC depicts a wave motif from both Oceania and New Zealand beside the star motif from an Australian legend of the Southern Cross.
This collaboration has always been in the interest of building capacity and capabilities of key literacy workers in the South Pacific Islands. In more recent times, a focus has also been on how these two ILA affiliates can identify and work on areas of mutual interest and need.
IDOC's aims are to:
facilitate the promotion of ILA membership and council development in the Oceania region
identify and/or support professional development projects in the region
assist with proposal development for ILA and other grants.
NZLA has representation on IDOC and supports its aims and objectives. The current NZLA representatives are Joy Hawke, NZLA's National President and Glenice, NZLA's Past President.
Joy Hawke is currently the IDOC Chair and Glenice Andrews is the IDOC Treasurer.
The New Zealand Literacy Association, through council support sponsor two Oceania teachers to attend the annual NZLA National Conference.
Each year NZLA work in partnership with Scholastic New Zealand on the Books for Oceania project. For every book purchased, Scholastic contribute a book of equal value. Scholastic package and freight these books to the chosen Oceania recipient. To date $88,000-00 $97,500 of books have been donated and distributed to schools in the Oceania region.
NZLA Local Councils who wish to achieve Honour Council status are encouraged to:
Provide a regional or international membership to an individual or a school in the Oceania region
Supply new high-quality children's books (fiction or non-fiction) to a school in the Oceania region
Assist in funding the attendance of an Oceania teacher to an NZLA conference
Support a regional council project within the Oceania region
Oceania Teachers to NZLA Conferences
Year
From
Name
Conference Hosted by
Conference Venue
2019
2018
IDOC Committee Members
Apolonia Tamata – Fiji

Folia Tohovaka – Niue

Manawatu
Palmerston North
2017
IDOC Committee Members
Apolonia Tamata – Fiji

Folia Tohovaka – Niue

Waikato
Hamilton
2016
Fiji
Amelia Samo

Adi Mere Cula

Tai Tokerau
Bay Of Islands
2015
Samoa
Ana Veikoso

Selevaia Maafu

Wellington
Wellington
2014
Tonga
Debbie Tiatia

Moli Amituanaimisi

Tauranga
Tauranga
2013
IDOC Committee Members
Eve Reea – Cook  Islands

Kathy George – Cook Islands

Apolonia Tamata – Fiji

Folia Tohovaka – Niue

Dinah Iusitini – Samoa

Auckland
Auckland
2012
Cook Islands
Vaine Teokoitu

Maara Scheel

Hawkes Bay
Hastings
2010
Cook Islands
Maureen Goodwin from Cook Islands

(attended as chair of IDOC but living in NZ at the time, not sponsored by NZLA

IRA World Congress
Auckland
2008
Cook Islands
Kathy George

Peo Vano

Waikato
Hamilton
2006
Fiji
Matavuso Kotobalavu
Tai Tokerau
Bay of Islands