A Balancing Act: with a closer look at shared reading years 1-8
After enduring months of uncertainty and reduced face to face contact while COVID did its thing, it was quite invigorating to finally get together and reconnect with many of our colleagues in Waikato's wider literacy circle.  We pushed the limits of our venue at Puketaha School with more than 200 attendees.  Sheena and Louise sure know how to draw a crowd.
With regards to our students, we were reminded to slow down and not rush through discussion time when reading, or any time for that matter. Really listen. Follow up on ideas.  We need to prompt our students with questions: 
Can you add to that? 
Do you agree with that? 
Does anyone else share this view? 
Does anyone else have another idea? 
How else can we think about that?
The deeper the discussion the better.
There was so much useful information, tips and activities, most of which can be found in The Writing Book, The Oral Language Book and The Reading Book. 
Our event schedule this year was pretty much derailed at the beginning of the year but thankfully our Sheena & Louise event got us back on the tracks.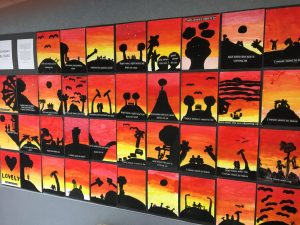 Sheena & Louise suggested using song lyrics to try and infer meaning. Two teachers who often refer to the duo's literacy books, took this idea and 'pulled apart' the lyrics of 'The Greatest' (NZ band, Six60) with their year 5&6 class.  Each student took a line from the song and used it to get inspiration for their silhouette art.
The feedback from their students was so positive that they tried it again with the lyrics of 'Where is the Love' (Black Eyed Peas) and integrated it with some Spotify Art.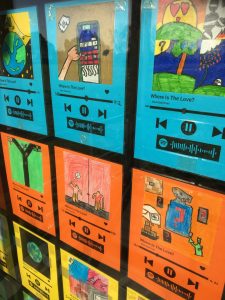 Another teacher, who is in her second year of teaching, liked the idea of using a 'mistakes' puppet to 'get it wrong'. When Marcus Mistakes (pictured below) is reading out loud to the children (with great expression by the way!) during a shared reading session, he sometimes gets the word wrong.  Whenever a word is mis-read or mispronounced the children would shout "STOP!" and then go back and correct the word.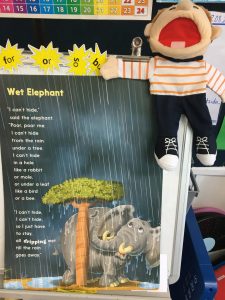 It's always interesting to hear how teachers take a little bit of inspiration from one of our events and bring literacy alive their classrooms. We can't wait for the next one.