Shared Book and Reading Aloud Workshop – Jill Eggleton
Mon 22nd Mar 2021 — Thu 25th Mar 2021
Time: 4pm to 6:30pm
Venue: Clark Road Chapel, Whangarei, Selwyn Park School Dargaville, and Kerikeri
Member: Early Bird $70 or normal cost $75
Non Members: Early Bird $75 or normal cost $80
S H A R E D R E A D I N G
Shared Reading will involve using musical, magical, rhythmical texts, both Shared Book and Poetry, to convey messages about the joy of reading. Jill will show how this simple and enjoyable approach will expose and saturate children in rich language structures and can help develop comprehension, extend vocabulary, create fluent readers, and assist in developing alphabetical code knowledge.
R E A D I N G A L O U D
Reading Aloud will involve thinking about book selection and the importance of choosing books with the elements that make them suitable for this approach. Jill will discuss the role of the reader in demonstrating what a good reader does, the importance of engaging the listener, and the role the listener plays in the read-aloud.
These approaches correctly implemented, will help in developing imagination, creativity, and a love of language. They are the threads of gold that endure in the ever-developing tapestry of literacy learning. They matter. They are threads to hold onto come what may.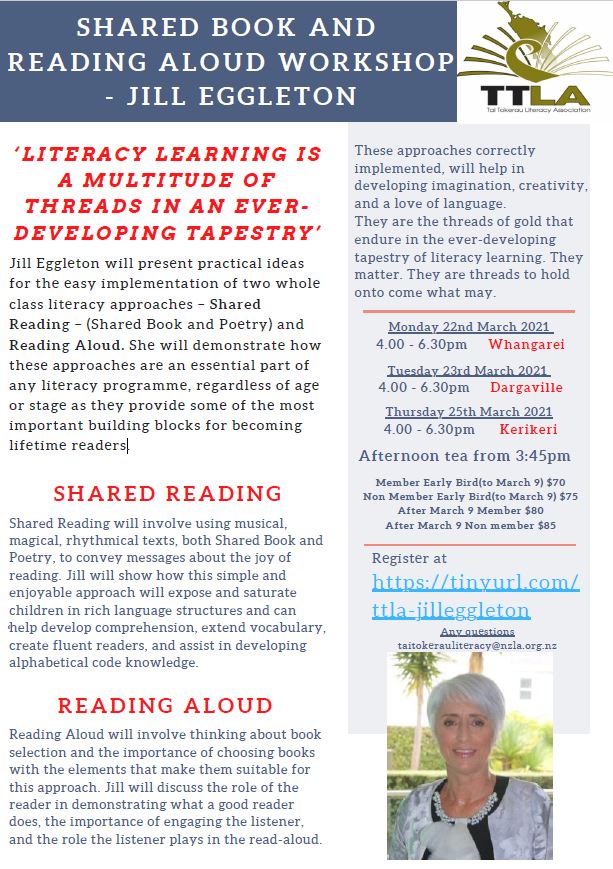 Download Event Poster